Where to buy dark mori, strega or lagenlook style clothing?
What is dark mori clothing?
Dark mori means "Dark Forest". Mori being Japanese for Forest. Just like regular Mori, but dark instead of lighter, natural hues. Mountains of natural textures and layering.  Minimal to no make up.  Very little showing of skin. Practical, cozy. Just mountains of layers, you have no idea what's under there. Could be cake. Form-fitting clothing generally does not apply. Lots of pockets. Sex appeal is not apparent, or a goal. Folky, fluffy, anachronistic. Natural. Woodsy. Feminine. And you can find that style here at Aesthetic Noir. Check out the Yohji Yamamoto style Strega Poncho below.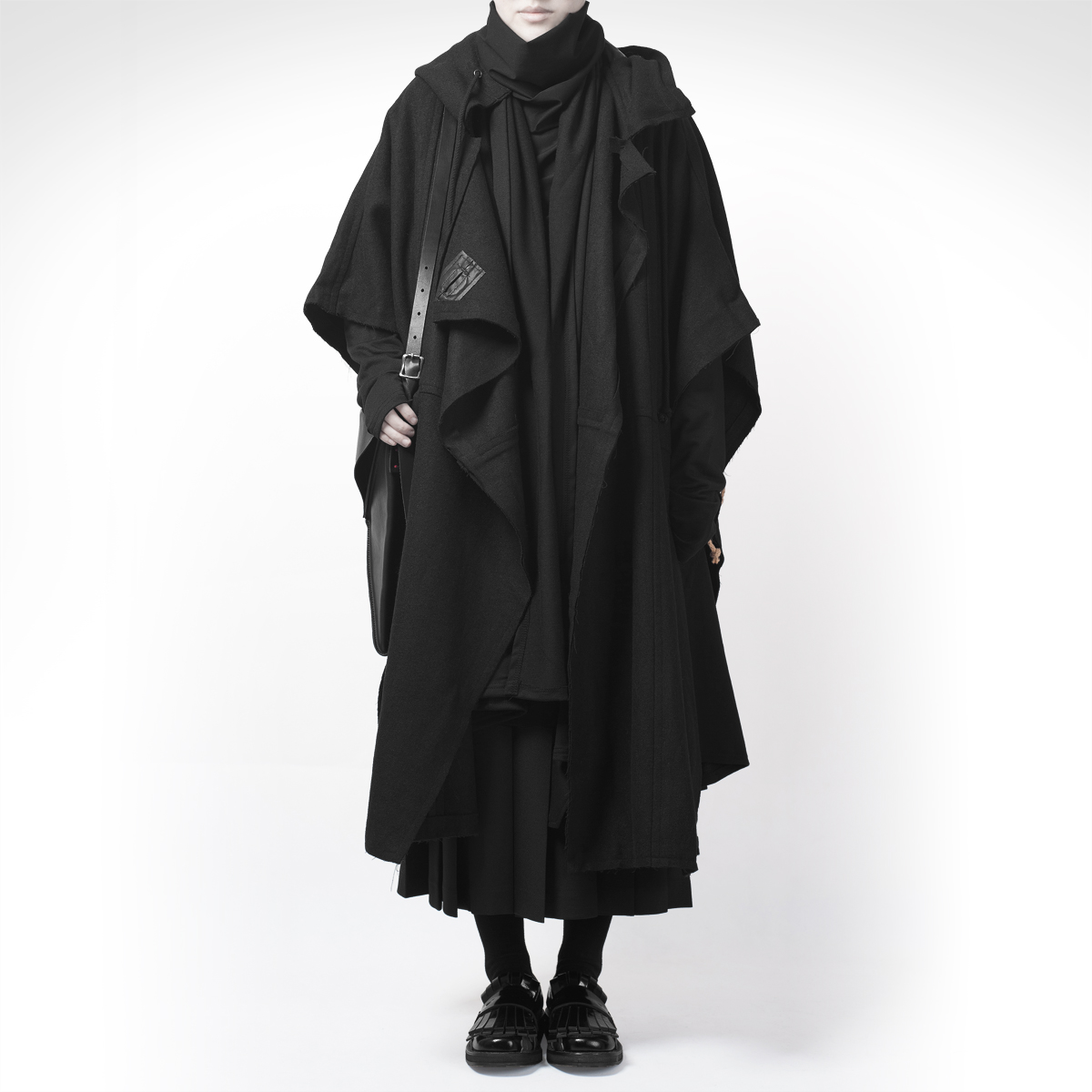 What is strega clothing?
Definition: Italian word for "witch"; Stregheria, or the Strega tradition of modern Italian Wiccan-styled witchcraft, adopted by the internet fashion world. A lot of people have issues with this name being used to describe a fashion trend. Screams "HEY EVERYBODY I'M A WITCH." Usually just everything black or dark. Extremely similar to nu-goth, void, and any dark fashion, but even more "witchy". Not very heavy layering at all. Moderate to extremely heavy make-up; nail-polish, jewelry, etc. Mixtures of synthetic and natural fabrics. Blatantly obvious "witchy" theme or silver accessories. Tight, form fitting clothing. Shoes range from practical to ankle-breaking-night-club-who-can-even-walk-in-those. Much more exposed skin and sex appeal. Usually accompanied by some sort of wide-brimmed hat. Intentionally intimidating. Tight. Black. Witch fashion. Strega clothing can be found on our website. Checkout the Stand Collar Long Black Jacket for a winter strega look
What is lagenlook clothing?
Lagenlook is all about layering multiple pieces of clothing to create an individual look that reflects your personal style. Lagenlook is centered on the ideal of expression; pairing clothes and statement accessories to create unique looks that work perfectly for all body types. Examples of items we sell that are considered lagenlook style are the Vintage Faux Layer Cardigan as pictured below.
---